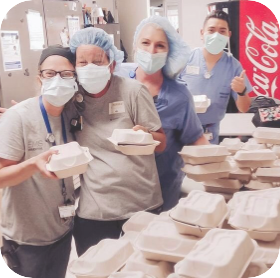 Hospital Nutrition: How Nutritious is it?
Posted March 29, 2023
We go to the hospital to to receive care for an illness or injury. After a surgery or your doctor prescribing medication what happens next? Mom always told us to eat our fruits and vegetables to grow big and strong, so why when our body is recovering is the hospital feeding us fatty, salty, ultra processed foods?
We are all TOLD and know that a healthy diet prevents disease and assists healing but where do people begin after a sudden heart attack or as a newly diagnosed diabetic? Starting a new healthy food plan is viewed by many as intimidating, daunting and expensive, when in reality eating healthy foods is as easy as reaching for that bag of chips. We need to teach old and new dogs new tricks so they can have a better understanding of what food does and how it benefits the body and mind. Shouldn't this first step in education be taught at hospitals from professionals that "know their stuff"? The food patients are being served is actually worsening their health.
As a whole we must address the issue that what we are eating and chronic illness are closely related. When analyzing hospital diets for example: cardiac and diabetic diets, it is SHOCKING to see they are nowhere near what should be recommended. Because of this, that patient will return again, probably with worsened symptoms in just a few short months because they were not taught the preventive solutions (nutrition) that landed them into the hospital bed in the first place. Here comes readmittance, which then costs the patient, the insurance company and the hospital system valuable time and resources.
Developing nutritious hospital menus can be easy. Hospitals are pinned with the responsibility of high volumes of food at a low cost and oftentimes this means utilizing pre-packaged and overly-processed foods with minimal nutritional value. But there is a way to accomplish this feat while also feeding people food that fuel their healing and overall health. By changing suppliers, breaking corporate contracts we can put simple wholesome ingredients into the foods served. It shouldn't be impossible to diagnose the ROOT of an illness and achieve and maintain a healthy lifestyle.
Instead of investing millions into treatments and band-aids (pharmaceuticals), hospitals should consider investing in wholesome, nutritious foods for patients and staff alike. Let's end the corporate greed and contracts with the Taco Bells, Pizza Huts, Subways and Ben and Jerry's in the hospital cafeterias. Our frontline heroes and patients need nutritious wholesome food, not the less expensive saturated garbage that feeds the hospital system. A healthy meal is the start of a healthy mind, body and soul.